The goal of newborn photography is to capture the adorable first moments of life when they are born, usually two weeks old or less.
Its the one circumstance in photography when the subjects wellbeing must come first, and safety is essential.
The good thing is that your baby will get parents supporting you by cuddling or posing the newborn.
They can rouse the baby from slumber and make him laugh. You should still invest in a few items of equipment to aid in this procedure.
Whether youre a professional photographer or parents wanting to take pictures of your child, you will have a successful photo session with these guides below.
Lets check this article out to get into details!
Newborn Photography Ideas
Its best to learn about the pose, prop, and photography ideas before starting a newborn photo session. 
Pose Ideas
It is often essential to have concepts and recommendations for posing a baby. Below are a few of our favorites for a newborn photoshoot.
1. Cozy Family
Theres nothing more exciting than a newbie. Hug your new born baby and take priceless pictures! Ensure you have a few adorable bows if you have a baby girl.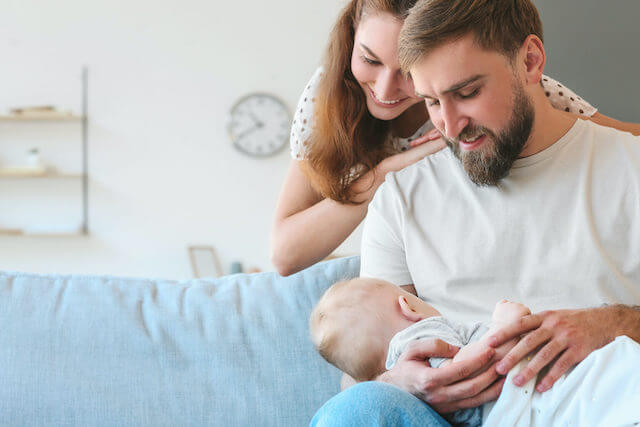 2. Only Mommy 
Is there a more satisfying relationship than that between a mother and her newborn child? For a comfortable baby, you can add a swaddling blanket.
3. Only Daddy
Its easy to show how much a father loves his baby by having him cuddle and kiss his little one in a cute pose.
4. Parents Kissing
Feel the happiness as new parents embrace their adorable baby in a kissing posture.
5. Siblings
Make sure your babys siblings appear in a few newborn snaps! There are many fantastic pose suggestions for capturing the affection between new siblings.
6. Swaddled Newborn
Newborns generally enjoy being swaddled. Additionally, this method produces some stunning pictures!
Wrapping your little one up like a cocoon in a silk blanket can keep him content throughout your photo session.
7. Newborn Between Parents
Your newborn will grow up day by day. One day, youll be happy when you look at this picture of yourself and your partner with your baby. 
8. Baby Leaning Up Against The Chest
Hold your infant close to your chest while you cuddle with him for a lovely picture.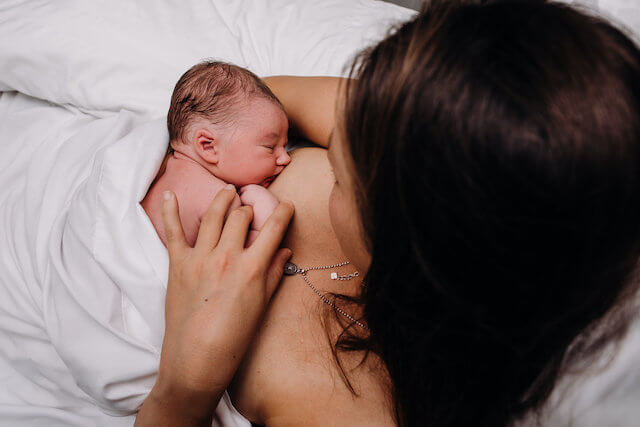 9. Blurred Background Of Parents
Including the mom and dad in the backdrop of your photographs will give the picture more depth.
10. Parents Looking At Baby
Heres another fantastic posing concept that includes the first-time mom and dad.
Have the new parents look at their infant to capture their feelings of affection and joy.
11. On Tummy
To get beautiful pictures, you can hold your newborn on your tummy while lying. 
12. On Lap
Put your infant on your lap to show him to get some gorgeous newborn baby photos.
If babies arent too fond of having their photo taken, this easy posture helps them relax and creates some lovely shots.
13. Over Shoulder
For a cute newborn photography picture, hold your baby over your shoulder!
14. Lying On Back
These photographs minimalism will appeal to parents! You can still have a sweet image of an adorable baby without props. 
15. Hands-On Cheeks 
Several versions of this pose dont call for a skilled photographer or even a composite picture.
16. Baby In Hands
Photograph a baby in the hands of their parents up close! Its a fantastic way to highlight how little they initially are.
17. Lying Down With Baby
Lie down with a newborn baby to create a warm and lovely photo!
18. Smiling At The Camera
Pose the first-time parents with their adorable infant while getting them to smile at your camera to capture their happiness.
19. Awake
While sleeping newborn images are adorable, you shouldnt undervalue the appearance of a cute, wide-eyed infant.
You may quickly get some adorable newborn baby shots by laying the infant on his back and watching for the cutest expressions.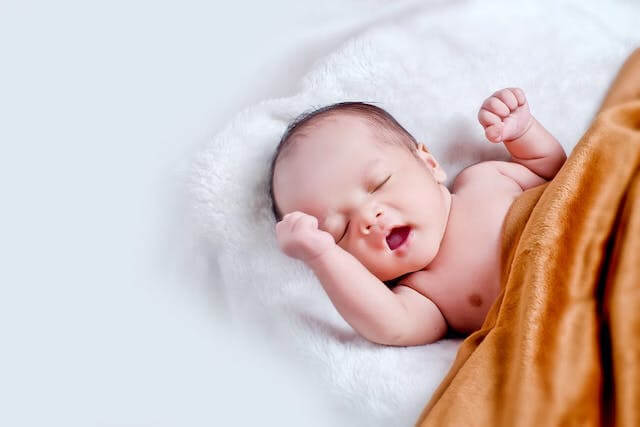 20. Outside
Take your baby photo session outside when the weather is favorable.
Take them outside as an excellent technique to add depth and warmth to your photos with lovely lighting.
Prop Ideas
Using props is a great way to give your baby photos uniqueness and color. The following 14 items are ideal for baby photography shoots.
1. Fur Blankets
A fur blanket is frequently used in baby photography because it provides texture.
2. Patterned Blankets
A customized swaddling patterned blanket may be a cute way to reveal your babys name. For a unique and exciting shot, pick any pattern and color.
3. Crates & Baskets
Due to their versatility, crates and baskets are the ideal baby photography prop.
Additionally, you may use it as decorative items or storage space after you have finished!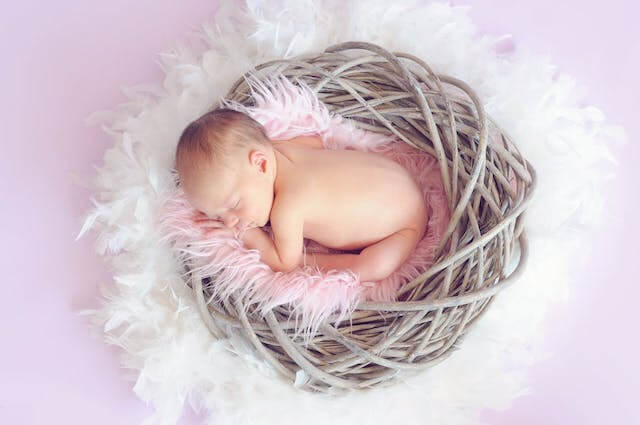 4. White Props
White accessories seem tidy and uncomplicated and help draw attention to the adorable, cuddly infant.
To create a serene atmosphere in your baby images, try using several white or neutral-colored chairs, blankets, or frames.
5. Spring Props
In the springtime, are you planning a newborn picture shoot? 
Dont forget to add a few amusing accessories such as bunny rabbit ears, carrots, or bird nests for creative baby images!
6. Fall Props
Bring some fun accessories like adorable knit hats, pumpkins, and acorns for a unique newborn photoshoot if your child is born in the autumn.
7. Christmas Props
If your child is born at Christmas, add several creative props such as Christmas lights, adorable knit hats, or Christmas ornaments for a unique photo session. 
8. Stuffed Animals
Using similar stuffed animals in each monthly snapshot is a fantastic method to picture how much a baby develops during the first twelve months.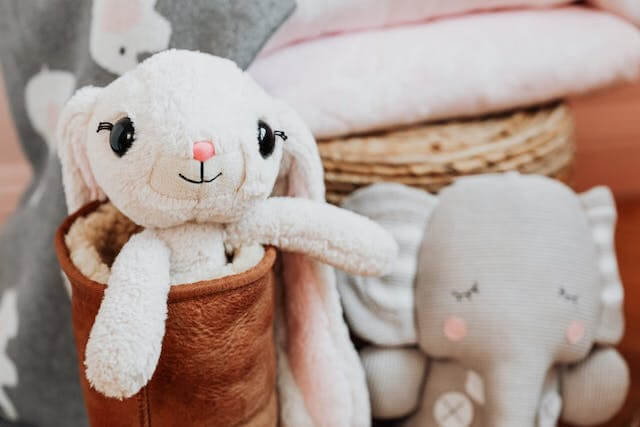 9. Chairs
You indeed already own a chair in your house, and they make for an excellent, essential prop for photo shoots.
10. Flowers
Whether genuine or synthetic, flowers may add texture and color to your pictures. Its adorable!
11. Wedding Bands
Particularly when placed in the same frame as a wedding picture, its such a fantastic idea!
12. Headbands
Headbands are a fantastic way to spruce up your baby images, whether a plain knit cap or a cute cartoon beanie!
They can assist in keeping your infant warm and comfortable throughout their photo session.
Additionally, you may dress up your images with various cute headbands and bows.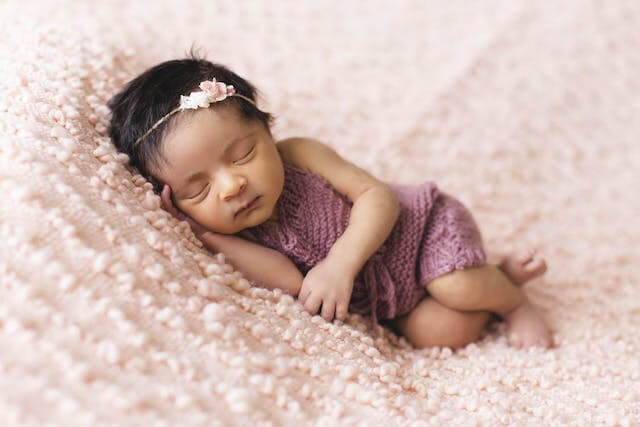 13. Stretch Wraps 
Most newborns enjoy being swaddled, and wraps provide the ideal props for newborn photos.
Babies feel secure and safe when they are wrapped. Stretch wraps are an attractive, tidy, bunch-free option for swaddling babies in photography.
Photography Ideas
Theres nothing more priceless than capturing a babys daily activities.
To create distinctive lifestyle newborn shots, consider including the babys relatives and surroundings.
1. In The Crib
Taking photos of an infant in his crib or cradle is a lovely way to use newborn photography to create a narrative!
2. On The Bed
Taking photos of your family with your new baby lying on the main bed is a terrific way to obtain beautiful images of them!
3. In The Nursery 
Take pictures of your child in his nursery to capture the sweetness of his room.
You successfully capture the adorableness of a baby as well as the character of your family in this setting.
4. On The Couch
The couch is a nice, private spot to take a lovely family photo with your newborn! Also, its a terrific place to cuddle up and get close to your infant.
5. In The Rocking Chair
One significant aspect of lifestyle baby photography is the chance to capture the familys daily activities with the newest member!
Remember to capture a mom or dad rocking their baby to sleep to get a precious memory!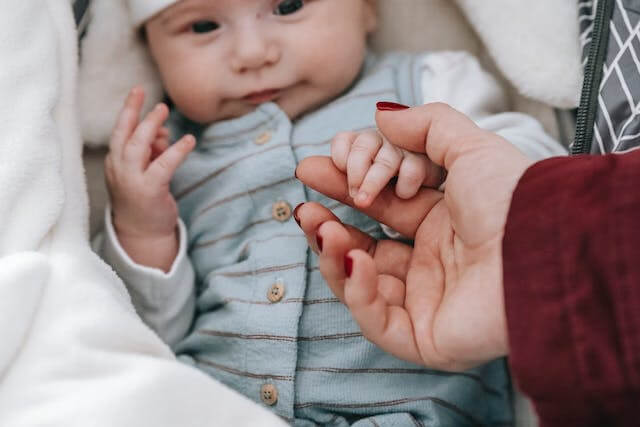 Tips For Taking Newborn Photography
If its your first time taking photos of babies, its better to refer to the following tips to get a perfect session!
Ensure The Newborn's Safety And Wellbeing.
The safety of the infant is of the utmost importance throughout the photoshoot. During the shot, dont leave the infant unsupervised.
Learning how to capture pictures is not enough. Safety is another concern. You must understand safe baby holding and posing techniques.
Understand how to interact with the infant and what to do when they start waking up crying to facilitate an ideal session.
Taking photographs of newborns often involves dealing with fussy or hungry infants. Be ready if kids scream for their basic needs.
Ensure that all the accessories and clothing you have used are thoroughly cleaned and sanitized for the upcoming baby by washing and sanitizing them after the session.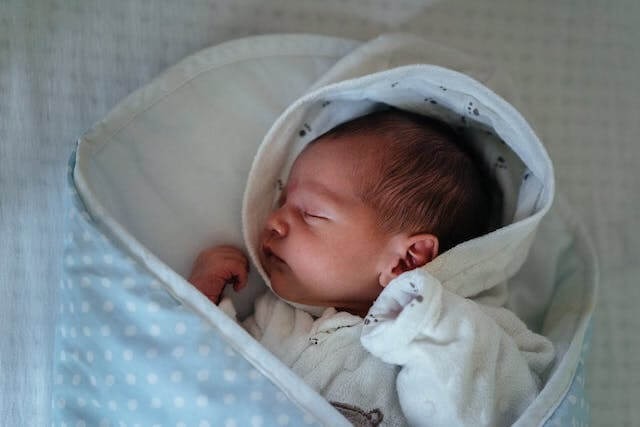 Feed The Baby Before Taking Photos
You will not want the babys shrill demands for milk to interrupt the photo shoot.
The baby will scream less, sleep much better, and the parents will be more at ease if they feed the baby just before a newborn photography session.
Avoid offering them a big meal 1 - 2 hours before the photoshoot. Try to give them a quick nibble if they appear hungry.
You may give them a big meal just before the session and anticipate a happy newborn.
Most picture shoots run for two hours, so if your infant wakes up wanting a snack, there will be enough time to feed them.
The Best Time To Take Pictures Of Newborns.
Knowing the ideal time to photograph baby images is crucial for a successful photo shoot.
Avoid doing it too early after the birth of your baby or too late when your child isnt little.
As soon as possible after birth, ideally 7 to 14 days, is when you should snap newborn images.
Now, kids are still groggy and enjoy striking the adorable postures that all parents like.
After the second week, you can still take some fantastic pictures of newborns, but they start to become aware of their surroundings.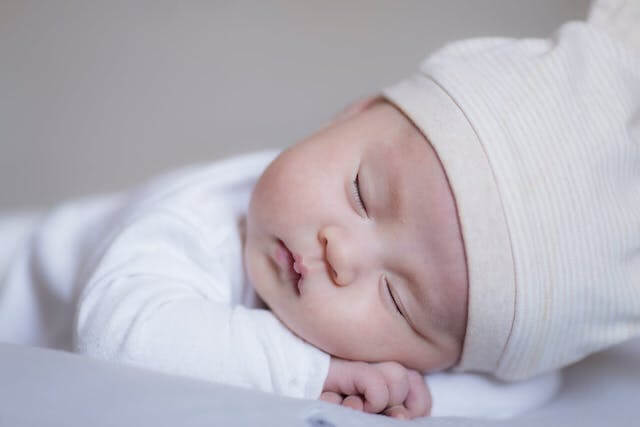 List The Equipment You'll Use For A Baby Photography Session.
How you conduct photography will determine everything. Youll need to have your cute infant first, of course.
Some individuals like a more uncomplicated strategy, while others favor using several props.
You may prepare some plain wraps, lovely neutral coverings, a warm area with additional heaters, or a music machine.
Give Your Clients Information On Newborn Photography.
If you are a photographer, its wise to make everything clear with your customers before a photography session.
Their objective for the baby photography session is similar to yours, but they frequently lack the knowledge necessary to achieve it.
Communication is essential:
Tell them how you conduct your sessions immediately when they make their initial inquiry.
Send them information about the newborns preferred age range, the location of the photo shoots, its duration, the temperature of the setting, and other details.
Your journey toward achieving the joint objective gets off to the perfect start when you express your hopes for the parents throughout the session.
Create a trustworthy contract:
You have to have a firm signed contract. Remind the parents of things they should do to be ready for the photo shoots a day or two before it starts.
To make it the most incredible possible experience, parents should contribute whatever they can. You should also provide reasons for your suggestions.
Think Of Conducting A Home Newborn Photography Shoot.
Newborns have just stepped into an unfamiliar environment. The babys comfort in their own house may be critical in maintaining their composure.
A newborn photoshoot doesnt require that much. For the baby photography sessions, photographers should pack their suitcases and make their studio portable.
Know How To Wrap A Newborn Before Taking Photos
Without a doubt, practice makes perfect. Therefore, before your photography session, try several wrapping methods on dolls.
It isnt always necessary to wrap the infants tightly since you may do it when they are asleep.
Try experimenting with various textures and lengths to achieve the desired effect.
To keep the infant from moving about too much, you should tuck the blanket around them.
Swaddling the child will make him feel more secure and will also assist him in maintaining his posture throughout your newborn picture session.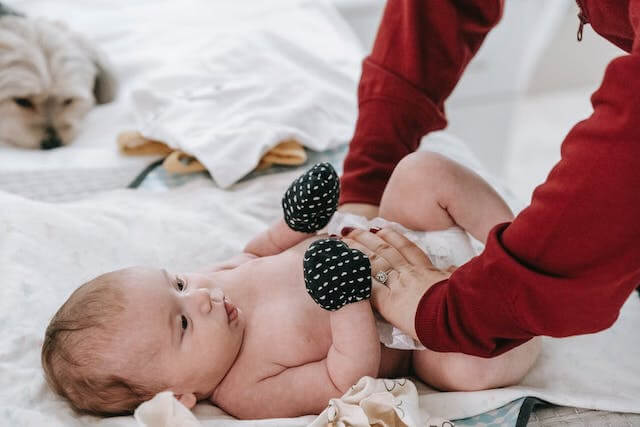 Apply Fresh 48 Pictures Method 
These are incredibly valuable and one-of-a-kind memories for any family. 
In the initial 24 to 48 hours following birth, 48 fresh photographs are taken.
The purpose of your session is to record all the infants small firsts.
It is typically a substitute for taking pictures of the actual delivery and labor process while still being able to document the birth of a newborn child.
Remember to collect all the minor things, from the indicators to the presents, because these people will frequently stay in the health center.
Take Better Baby Shots By Using Blankets Or A Beanbag.
For newborn photos, purchase a flat puck-shaped bean bag. The significant, level workspace is ideal for posing newborns.
Having a clear view of the infant makes it easier to manipulate their face, limbs, and legs.
It is preferable to clash with them as they slip into a beanbag that is too soft and too tiny.
Additionally, placing many coverings on the beanbag in the desired order to utilize them might be beneficial.
It expedites and streamlines the change from this blanket to another one. To assist in posing, you may also roll up some cloth diapers.
When positioning the infant correctly, it also helps to tuck rolled-up diapers beneath the bottom of the covering for a smooth, lump-free appearance.
Moreover, due to their reduced tendency to wrinkle, textured thick blankets are much simpler to deal with post-processing.
When Photographing Newborns, Angles, And Light Matters.
Among the first mistakes, you could make when starting with newborn photography is how you handle natural light.
Think about angling the infant to cast gentle shadows to prevent unwanted situations.
Soft shadows are produced by positioning the infant and the beanbag arrangement concerning the beam of light, which gives a necessary depth for an attractive image.
When taking pictures of a newborn infant, you can hold the head of the baby angled towards the lighting to create the desired shadows.
The window size affects the amount of light coming in and how far the window is from the ground.
Generally, you may position your setup with the beanbag at a 60° angle to your window and about 3 feet away from it.
Hold The Posture With The Aid Of Your Hands.
When you position a newborn for a posture, you shouldnt just place them at that position and take a picture.
Until they take it easy into the posture, you should continue holding onto them with your hands.
You can also smooth a covering with your free hand while making a tiny adjustment to the posture or whispering into the babys ear.
Parent participation in newborn photographs is a terrific concept. The infant will feel much better if their parents hold them still while striking the proper position.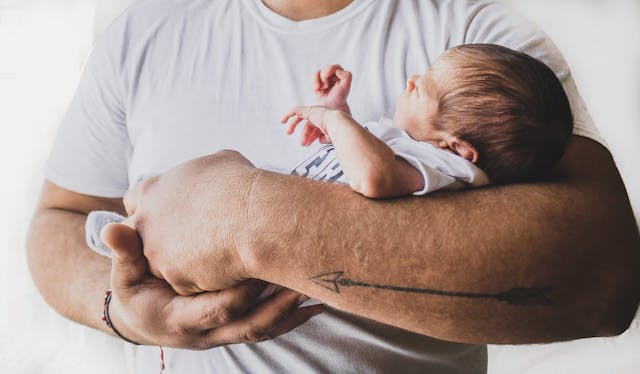 Be Self-Assured When Taking Photos Of Newborns.
You should be confident when taking photos. If not, its better to watch photography videos to gain experience. 
Besides, you will surely boost your confidence when you prepare all essential equipment before any photography session, including:
Beanbag & Stand
The first items are a beanbag stand and a posing beanbag. During each session, you will utilize them for around half of your time.
These things offer a secure and inviting setting for perfecting your baby poses.
Handy Clips
These things come in various sizes and are available at local hardware shops. These have a wide variety of applications.
To tightly cover your beanbag and secure it to the stand, use the bigger two to fasten the cloth across the beanbag.
The tiniest ones may be used to draw cloth back on oversized clothing. Additionally, you might use these things to maintain the backgrounds curled up.
Light Source
A decent light source is necessary for any newborn photographer.
You should be sure you have gorgeous, high-quality light to produce jaw-dropping photographs your customers will like, whether it comes from artificial or natural sources.
Proper Lenses
Each newborn photographer should have one lens or more with a low focus length to get near the infant while taking their picture.
Although several zoom lenses are functional, many people like the sharpness and clarity of a prime lens.
Essentials For Baby Care
Its a good idea to keep extra formula milk, newborn diapers, hand sanitizer, or pacifiers in your studio.
Your customers experience will be more convenient with these baby essentials.
Space Heater
Although this equipment may be a handy tool for baby photography, you must use it cautiously.
How Do You Photograph A Newborn Baby At Home?
Parents may capture those first moments spent with their baby through newborn photography.
Besides getting a professional to take photos of your baby, you can do it at home with the following guides!
Determine The Location
Before your photography, take some time to explore your home at various moments of the day to observe how the outside light changes.
Have your camera always in hand to catch the changing light during the day.
Choose the moment and location that provides the clearest, brightest light after weighing your selections for one or two days.
Early or late in the afternoon, be close to large doors or windows for the best results.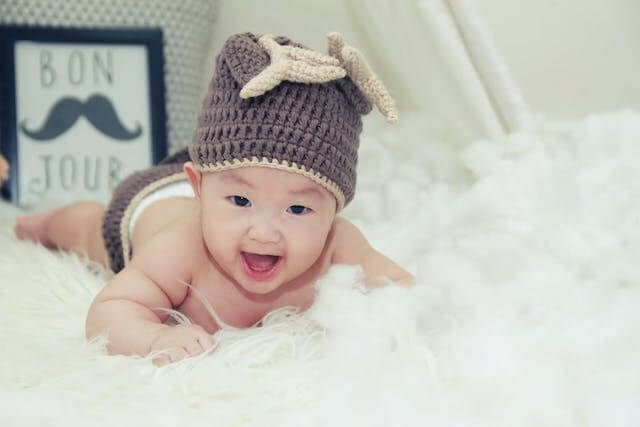 Set Up The Home Studio
Its the best time to use your inner creativity right now.
You must design an environment that is cozy for the infant and provides a tidy, seamless backdrop bearing in mind your shooting location.
It might be an armchair, a beanbag, a sofa covered in cloth, or a collection of various furniture items arranged in some way.
Alternatively, you could spread a fabric piece on the ground or a bed and affix the extra to a couch or a headboard to make a solid foundation.
The material you select for a background is crucial. Photos taken with an outdated, unattractive blanket or crumpled sheet might seem sloppy and unfinished.
A few attractive, spotless, softly textured items, such as a white comforter with fluffy sides, a fur blanket, or a knit throw in a bright color, will all look great.
Select Outfits, Accessories, And Props
Choose a costume and some accessories for the newborn to dress for his big debut. Otherwise, opt for au naturel with only a darling cloth diaper.
You may select a neutral color scheme like whites, light blues, beiges, or light grays for clothes for a newborn photography photoshoot.
New mothers look great in long, fanciful costumes with tulle or lace, or perhaps a dress or shirt made of white gauze.
Whatever you decide, make sure you prepare a couple of backup plans in case something goes wrong.
Choose whether or not you prefer to use extra props in your pictures; favorite toys or sentimental items from the family work effectively.
You may use the following tools at home to capture these images:
Kitchen table
Patio doors
Net curtains
Fake fur
Silver reflector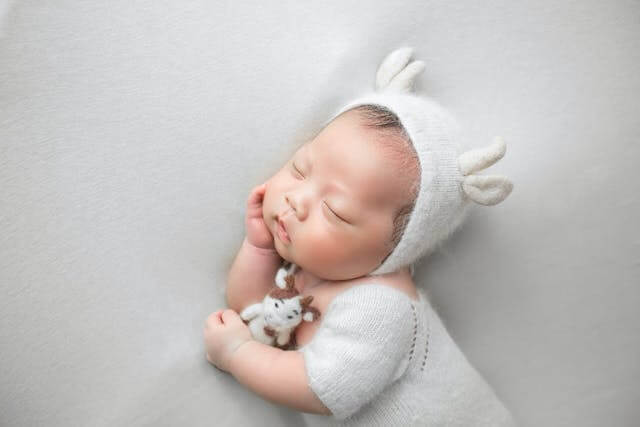 Take Good Care Of Your Model
Honestly, infants make incredibly unpredictable photographic subjects.
Many newborns wont enjoy the thought of being left all by themselves in the center of a blanket while you constantly take pictures of them.
For this reason, planning the photo session during the babys sleep period is a wise choice.
You wont have to deal with a wailing infant; nothing is cuter than a babys face while soundly sleeping.
Play some relaxing music or use a white noise device to drown out surrounding noise to keep them relaxed. 
Also, keep your homes temperature at a comfortable level.
Pose
Many professionally taken newborn images of babies owe their attractiveness to a properly thought-out pose.
Only skilled photographers can create some of the unusual baby postures you have probably seen on the internet.
Choosing postures where you hold your baby makes things slightly better for unprofessional photographers. 
Pick the postures you prefer the most, and then talk with the photographer to get them positioned precisely so.
Moreover, picking just one to two postures to concentrate on throughout the session may help you avoid moving your kid around too much.
Scroll up to get some newborn photography ideas mentioned above!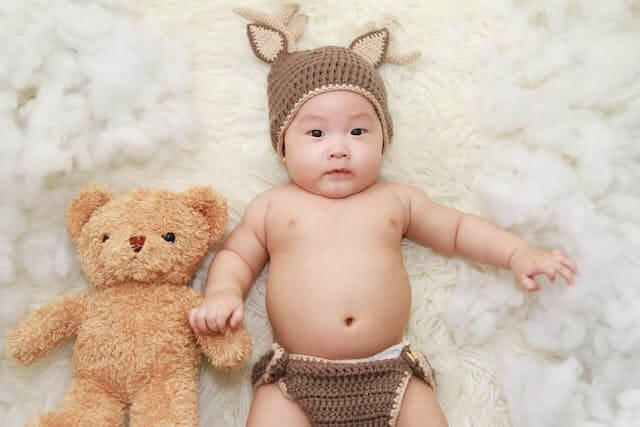 Photo Composition
Detail is the key to capturing beautiful baby pictures. Composition is fascinating when it combines close-ups with various angles.
Be patient and consider many different angles. As you go along, check your photographs to determine whats effective, and then attempt some more.
Final Thoughts
This article has guided you on everything you need to know about newborn photography before starting a session. 
You will be successful with our tips whether you choose to take photos of your baby at home or in a professional studio. 
If you are unsure about something mentioned above, please comment below. Were willing to answer all as soon as possible.
Thanks for taking the time to follow us!